Happy Thursday, peeps! I apologize for being late in posting these last few days…..the Christmas rush is on, and I just haven't had time in the evenings to set up my posts! I am sure you all understand! I did see an adorable inspiration photo from Laurel at Inspired By, and I couldn't pass it up:
This is straight from my era….a little 45 record cover (29 cents, no less) and that's how I remember Santa looking when I was a kid! I barely made a dent in my "vintage" Christmas stash with my card:
Not quite the same era, but I thought he was cute! And what is with all the shades of green going on here? I certainly covered all the green spectrum, didn't I?? LOL! I also used the Deconstructed Sketch #79, which I flipped on its side to make use of my little Santa image: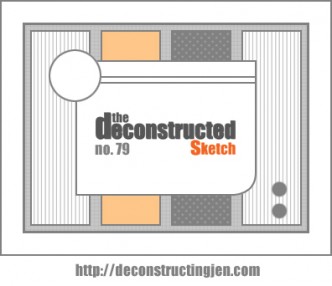 I glittered him up pretty well, and added some ribbon, a little sticker embellishment and a diecut holly:
Thanks for visiting! Remember, if you have any questions, just shoot me an email!
Today's photos of Cassidy shows her feeding chicken (a pretend drumstick) to her farm friends…..although feeding a drumstick to a chicken seems a little macabre!!!