(If you're looking for my Merry Monday card, you can find it
here
!)
My friend Lisa at
My Paper Tales
invited me to participate in a Creative Blog Hop! It's just a little way for readers to get to know various crafters (not just stampers) here in blog land! Lisa has been one of my most faithful followers….she always leaves the most encouraging comments! And her stamping style is just delightful! It is as sweet as she is! Be sure to stop over and visit her blog, if you've never been!
So, the hop asks four questions….and I'll try to make my answers short and sweet!
What am I working on right now?
Right now, I am busy making samples using products from the upcoming Holiday mini catalog! This includes creating Christmas cards for my Christmas card stamp camps too! Finally, whatever I need to prepare for my design team obligations is always on my mind!
How does my work differ from others in my genre?
Well, I think when you have thousands of stampers, stamping with the same SU sets, you're bound to see similarities among projects! I try to be a little different by changing up my style; one day I might do a clean and simple card, and the next day, I'll do a vintage-style card with lots of sponging and background stamping. I do tend to keep my cards a little simpler than I used to, just because it costs more to mail them, and I truly do try to mail most of my cards out! But I do have quite a stash here in my craft room, LOL!
Why do I create what I do?
Oh, that's an easy question! First, I love color and art and making pretty things, be it with paper, fabric or even food! But I can't draw! So stamping and cardmaking allow me to use someone else's art and add my own spin on it! I have always sent out encouraging cards to my friends and family, so when I was first introduced to stamping, I had the best of both worlds. And in today's world, receiving a handmade card in the mail pleases the recipient in ways that an email or text can never replicate! It means you cared enough to take the time to create something unique, just for them! It means LOVE!
How does my creative process work?
Usually I am inspired by a piece of designer paper, or someone's clothing, or a piece of fabric or upholstery I see in a magazine or catalog! Other times, I use a sketch to inspire me, and sometimes my stamps themselves seem to beg to be used with certain papers, colors and embellishments! (I wish I was more creative in combining unusual images and products together; I am still working on that!) And sometimes, for design team work, I am given an inspiration or challenge to work on. Anyway, I try to start with a clean area, gather my supplies together and just get to work! Sometimes it takes a few tries and a couple of samples before I get the look that is pleasing to me….other times it falls together easily! I just love the process of putting stamps and ink to paper….it makes me smile! I do have a funny quirk before my card is finished; when I have all my elements laid out and they are pleasing, I put all my major supplies away….close up the ink pads, put away the stamps and punches and ribbon….and THEN I glue it all together! Isn't that odd? It's like a little reward I give myself for finishing the project. And then my area is already fairly cleaned up. I say "fairly"…..the last two weeks I have had over 20 stamp sets just sitting on my desk. I finally put them all away!!! Just lazy and busy, I guess!
SO….that's it for me! Now, I want to introduce to you three stampers who inspire me and whose work I love! They'll be sharing their stories next week, so be sure to check them out!
Sandy is a fellow
Paper Players
DT member and one creative stamper! She always encourages me and inspires me daily!
"Hi there! My name is Sandy Mathis. I'm a wife and mom to three adult kids, my best friends. I'm a lifelong resident of beautiful Long Island, New York, and love the beaches, wetlands and nature here. I have always loved crafts of all sorts but I am totally addicted to paper crafting. I went to my first scrapbook class in 2004, and my friend Sue introduced me to stamping in 2008. I was immediately hooked! I am now a Stampin' Up Demonstrator, have a blog (
stampwithsandy.com
), and hold paper crafting classes in my home. I love blogging and participating in challenges and feel so fortunate to have made so many amazing friends along the way who share the same passion. When I have time, some of my other interests include cooking, jewelry making, gardening, reading and biking.
Thanks very much to LeAnne for tagging me in The Creative Blog Hop! I'm so honored that you thought of me!"
Claire is also a Paper Players DT member, and she has an enthusiasm and zest for stamping (and life!) that will make you smile from ear to ear!
"Hello, my name is Claire Broadwater. I live in Greensboro, Georgia. It is an hour east of Atlanta at beautiful Lake Oconee/Reynolds Plantation. My husband, Bill is my biggest supporter. I am the mother of twin sons and I also have a bonus son and daughter. We have 7 grandchildren. (5 girls and 2 boys ranging in age from 3 weeks to 5 years) Let's just say, there is never a dull moment at our home! I am a retired Elementary Educator (27 years) 20 of those years were spent in First Grade—my true love. I have been cutting and pasting paper as long as I remember. I LOVE everything about paper! The way it feels, smells, the texture and all the different patterns. If you look in my craft room, you would say I am a Paper Collector! I save it thinking I might need every little piece! I was a scrapbooker for many years and was introduced to Stampin' Up! two years ago and became a Demonstrator the first day. I LOVE making cards, teaching classes, entering challenges and blogging. I believe my style is eclectic, but I must admit, the more layers a card has—the better. Ribbons, pearls and rhinestones are some of my favorite embellishments! SO maybe, clean and layered is a better way to describe my cards. I am not an artist, but feel very blessed to be able to create and send cards to people. Opening your mailbox to find a handmade card is such a lovely way to show someone you care! I am very thankful for all the wonderful friends I have met through card making and challenges. LeAnne is one of those amazing friends that I met online through challenges. I love her work and started leaving her comments and she always left the kindest, most encouraging compliments on my blog. I was so thrilled to meet her at the Stampin' Up! Convention in July. It was one of the biggest highlights of my trip! THANK YOU, LeAnne for believing in me and for choosing me to be a part of this blog hop!"
Finally, Joanne is another fellow Paper Players DT member, and she amazes me with how she can take simple elements and put them together to make something extra-special!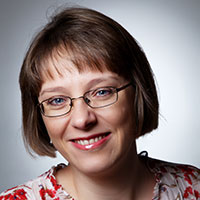 "Hello I'm Joanne and live in Northampton in the UK, although I'm Welsh at heart. I am a busy Mum of a 9 year old daughter and 7 year old son and have an amazing husband who is as much of a whizz with the ironing board as he is an IT genius, which can be a real benefit at times! I have always been creative and enjoy lots of crafts and papercrafting and rubber stamping is my passion – I love that I can produce something unique and truly personal. I only discovered Stampin' Up! relatively recently and became a demonstrator 2 years ago. Stampin' Up! enables me to share my passion and creativity with others through parties, classes and writing my daily blog, which is my therapy! My style is fairly 'clean and layered', although I love participating in challenges and find them a great way to push my creative limits. I am grateful to LeAnne for nominating me to participate in the Creative Blog Hop – I have been following her blog for a long time and am a big admirer of her work and I consider her a true stamping buddy."
Thanks, ladies! Be sure to check out their blogs next week to find out more!